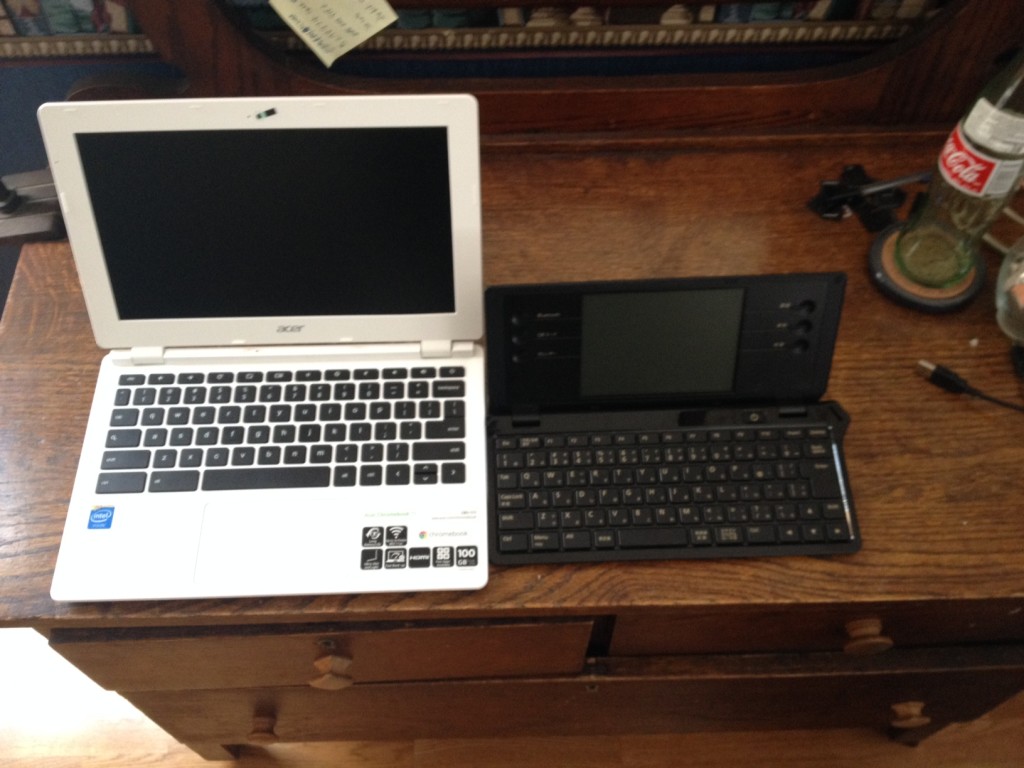 The Pomera DM100 (Amazon) is the ultimate offline device for note-taking, writing, and drafting. The key word here is "offline."
Now the Chromebook (Amazon) on the other hand is very useful if you have an internet connection. But sometimes its not always possible to snag a hotspot.
I've been using the Pomera DM100 for over a year now and just recently bought a new Acer Chromebook.
And let me tell you, setting the Chromebook for OFFLINE use was a pain. Google clearly wants and encourages users to be connected to the internet to get the most out of their little OS.
That's fine if you're always in a town that has hundredes of hotspots. But what if you travel and don't have access to Wifi?
Well, setting up the Chromebook for offline use involves saving files to your "download" folder and then editing from there.
They also have a an "Offline folder" that is used for the same thing.
This is good. But I found the Pomera DM100 was much much easier to set up and get running.
Boot time
The startup time for the Pomera DM100 is also faster. All I do is sit down, open up the screen, enter in my password, and start typing.
With the Chromebook, the startup time is slightly slower, but not by much. One thing to note, is the Chromebook is quiet, with next to no noise, as is uses an SSD drive. If you know anything about SSD drives then you know they don't have ANY moving parts. Unlike traditional optical drives, which make that whirring and clicking noise.
The Pomera DM100 makes 0 noise as well. The only thing I hear is the keyboard as I type away.
Price
The Pomera DM100 has an average price of $190 – $200 depending on where you buy it from. While the Chromebook cost me $150. Not bad.
If you live in Japan then you can expect to pay about the same price for a Pomera. I found that there is really no where cheap to get one except from Amazon.
Chromebooks are cheap and well made.
Deciding which to get
Everything depends on your needs. There is no tool that is better than the other. If you are living in a big city with plenty of WiFi connections, then the Chromebook is a good choice.
However, if you want the ultimate offline solution that's distraction free I recommend going with the Pomera.
The fact that the Pomera DM100 comes with no internet, no email, no games, means you can focus on writing.
The Chromebook does have the internet, which means you will be tempted to browse the net, check email, and goof-off.
Keep this in mind when deciding.